I like experimenting with shapes and construction when thinking of a new design. This time I was thinking of half ball shaped beads. These were made of two parts, joined together with a seam which makes it easier to insert links from a chain and shape the necklace. Materials for the design were a 2.5 mm crochet hook, 100% cotton thread, stuffing and 7 links of a thick chain.
Me gusta experimentar con las formas y la realización cuandi estoy pensando en un nuevo diseño. Esta vez la idea era hacer cuentas con forma de media esfera. Están construidas de dos partes, unidas entre sí con una costura para facilitar la unión de los eslabones y dar forma al collar. Los materiales para este diseño son un gancho de 2.5 mm, hilaza 100% algodón, un poco de relleno y 7 eslabones gruesos de cadena.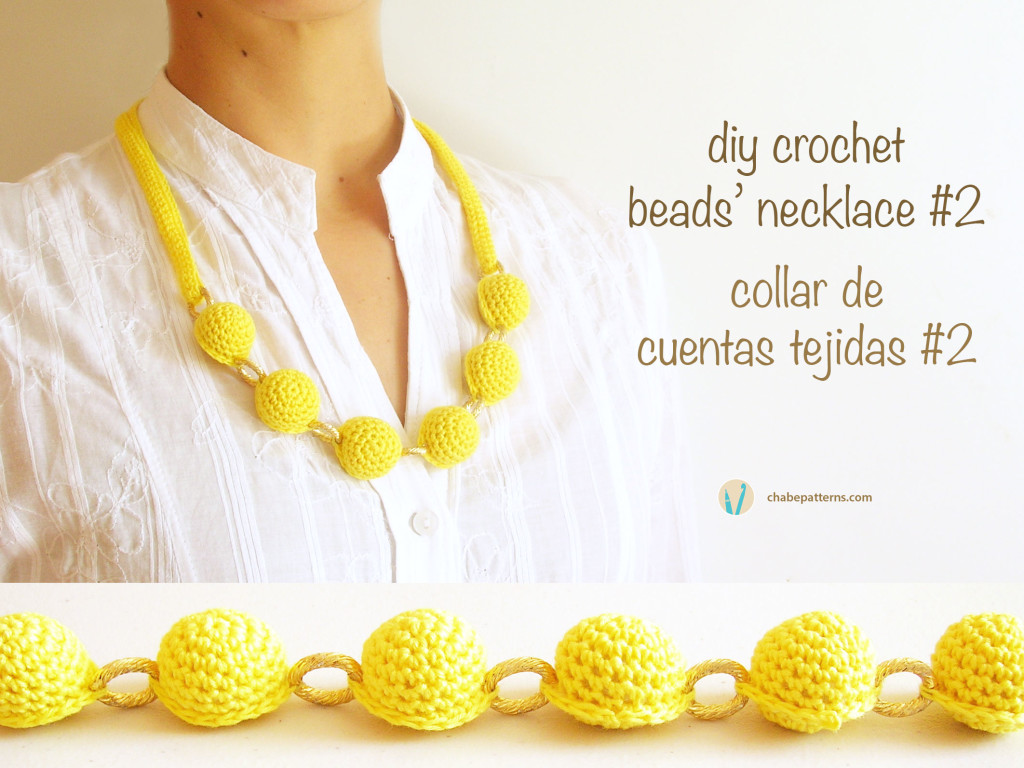 Beads are made of two parts, both crocheted in the round in a spiral way.
PART 1- Ch 2
R1: 6 sc in the first ch= 6 sts (place a marker in the first st of every row so you can easily count sts)
R2: 2 sc in each st around= 12 sts
R3: (sc 1, 2 sc in next st) rep ( ) 6 times= 18 sts. Ss in the first sc of this row. Fasten off.
Las cuentas están hechas de dos partes, ambas tejidas en redondo en forma de espiral.
PARTE 1- Hacer 2 cad.
Vta. 1: 6 mp. en la primer cad= 6 p. (colocar un marcador en el primer p. de cada vta. para poder contar los p. con mayor facilidad)
Vta. 2: 2 mp. en cada p. alrededor= 12 p.
Vta. 3: (1 mp, 2 mp. en el sig. p) rep ( ) 6 veces= 18 p. Hacer 1 pd. en el primer p. de la vta. Rematar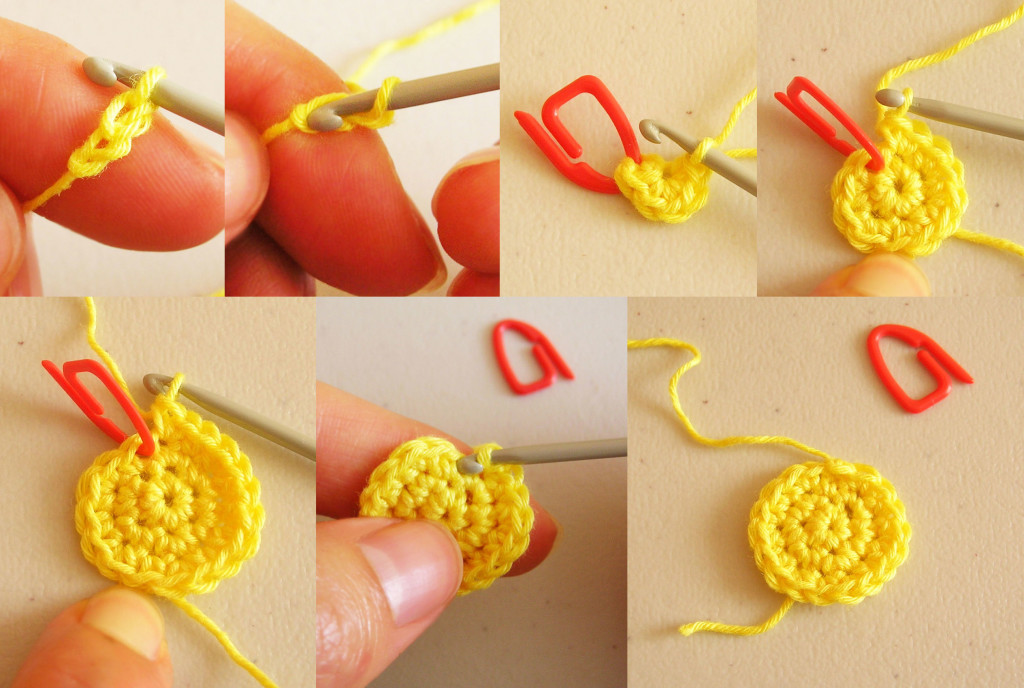 PART 2- Follow steps of PART 1, continue crocheting after R3 without making ss or fastening off
R4-6: Sc 18= 18 sts. Don't fasten off. Turn the piece inside out to show the right side.
PARTE 2– Seguir los pasos de la PARTE 1 y continuar tejiendo después de la vta. 3 sin hacer el pd. ni rematar.
Vta. 4-6: 18 mp= 18 p. No rematar. Voltear la pieza para mostrar el derecho de la labor.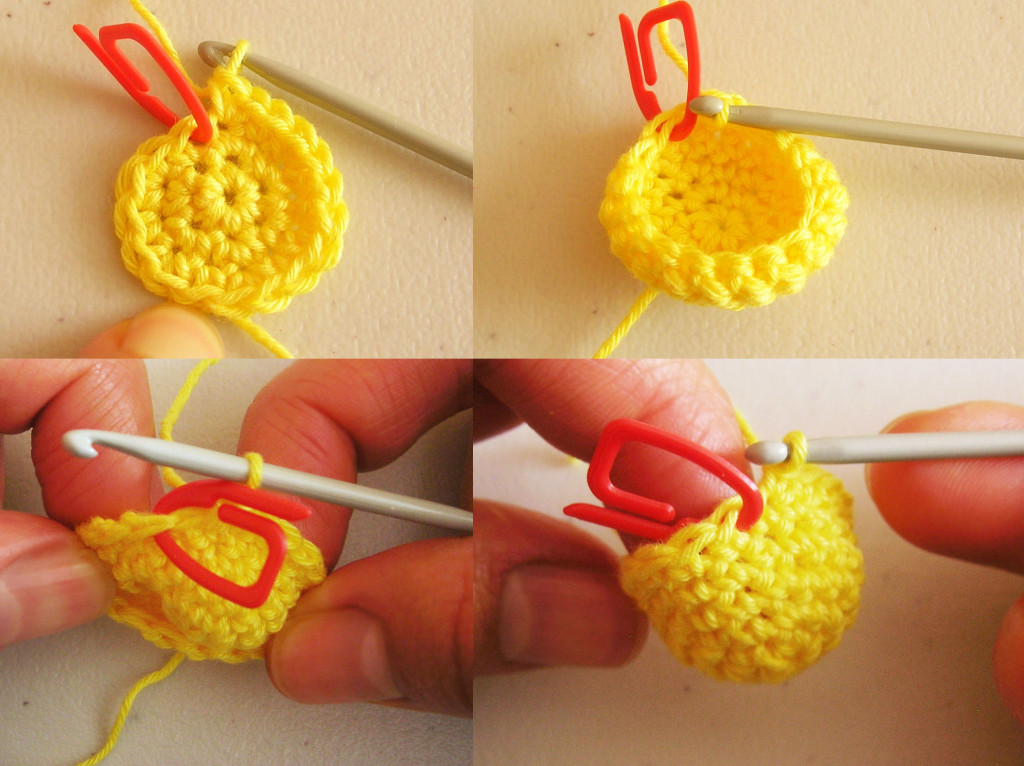 Now the two parts must be joined with sc. Take PART 1 with right side facing out and place it at the bottom of part two, just as a lid. Go through both pieces to make sc all around, making 1 sc in each st= 18 sts. Fill in the bead with stuffing before closing, make sure it's quite firm. Ss in the first sc of the row and fasten off. Weave in all ends. Make 6 beads.
Ahora ambas piezas deben unirse con mp. Tomar la PARTE 1 con el derecho de la labor hacia afuera y colocarla debajo de la PARTE 2, como una tapa. Atravesar ambas piezas para hacer mp. todo alrededor, haciendo 1 mp. en cada p= 18 p. Antes de cerrar completamente, ponerle relleno dejando la cuenta bastante firme. Hacer 1 pd. en el primer mp. de la vta. y rematar. Esconder todas las hebras. Hacer 6 cuentas.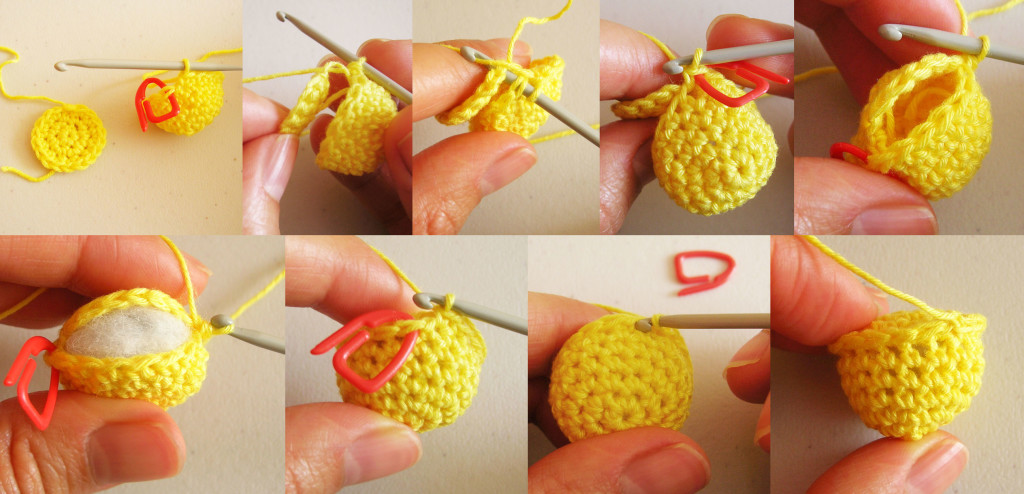 For the necklace strap, you'll also crochet in the round in a spiral way. Ch 230.
R1: Starting in first ch, sc 230= 230 sts (this will close the base chain in the round, take care not to twist your work)
R2: Sc 230= 230 sts. Ss in the first sc of the row. Fasten off and weave in all ends.
La banda del collar también se teje en redondo en forma de espiral. Hacer 230 cad.
Vta. 1: Empezando en la primer cad, hacer 230 mp= 230 p. (esto cierra la labor en redondo, cuidar de no torcer las cad)
Vta. 2: 230 mp= 230 p. Hacer 1 pd. en el primer mp. de la vta. Rematar y esconder todas las hebras.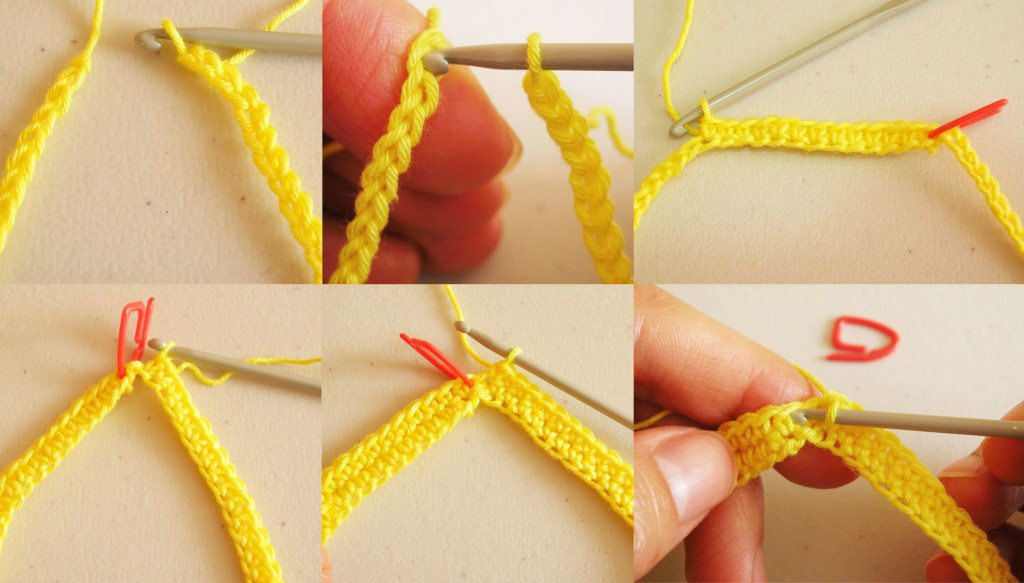 Shape the necklace by holding the links to the beads' seam. These links are quite thick, otherwise the beads would be swinging. There must be 8 sts of separation between the two links holding each bead. Place the strap without twisting your work. It's long enough for the head to go through. The necklace is ready.
Dar forma al collar colocando los eslabones en la costura de las cuentas. Los eslabones son gruesos, de otra manera las cuentas no tendrían mucho soporte. Deberá haber 8 p. de separación entre los dos eslabones que sostienen cada cuenta. Colocar la banda tejida sin torcer la labor, es lo suficientemente larga para que entre la cabeza. El collar está listo.



Tweet

ABBREVIATIONS
ch: chain
R:row
st: stitch
sc: single crochet (UK double crochet)
ss: slip stitch
rep:repeat
ABREVIATURAS
cad: cadena
vta: vuelta
p: punto
mp: medio punto (punto bajo)
pd: punto deslizado (punto raso)
rep: repetir
sig: siguiente