We can see so many designs with bows, in jewelry, clothing, hair accesories, shoes… It's a great simple shape which fits into many styles. And it's so fast and easy to crochet one, specially if it's intended for a little object such as a ring All you need is a 3 mm crochet hook and some 100% cotton yarn. It's completely crocheted in the round and constructed of two pieces only.
Hay tantos diseños que incluyen moños, ya sea en joyería, ropa, accesorios para el cabello, zapatos… Es una forma tan sencilla y tan clásica que encaja con variados estilos. Y con ganchillo podemos hacer uno tan fácil y rápido, especialmente si se aplica en un objeto pequeño como un anillo. Lo único que se necesita es un gancho de 3 mm y un poco de hilaza de algodón. Se teje en redondo completamente y se hace de dos piezas.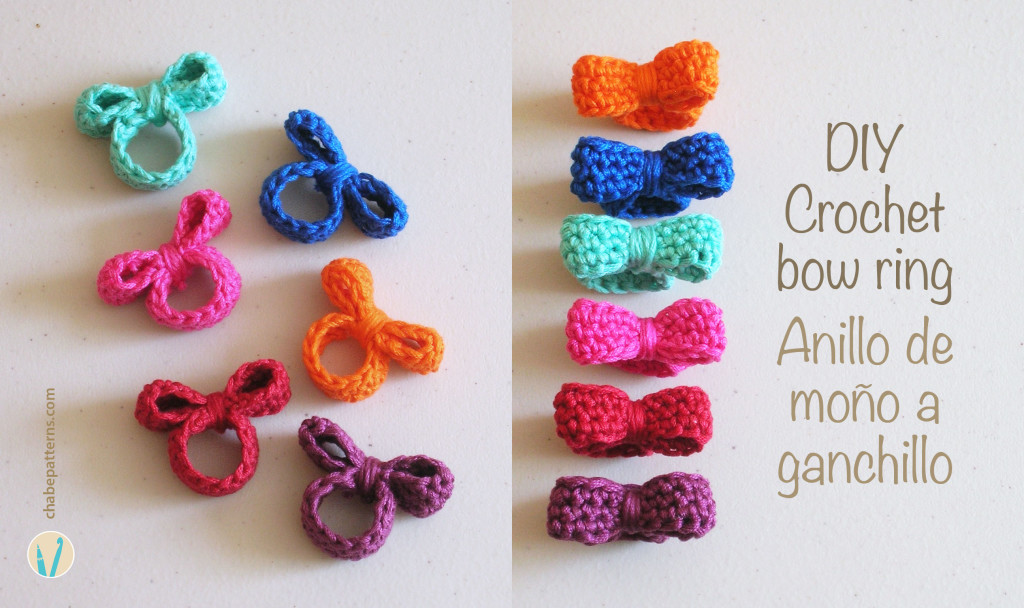 To start with the ring, ch 12.
R1: Starting in the first ch to crochet in the round sc 12 (if you want place a marker in the first sc so you can count sts and rows easier)
R2: Sc 12
R3: Sc 12, and ss 1 in the first st of this row
Fasten off and weave in all ends. Try the ring, it should fit a bit tight into your finger. With time and use the yarn will stretch a little and we don't want it to fall off.
Se empieza con el anillo, hacer 12 cad.
Vta. 1: Empezando en la 1er cad. para tejer en redondo, hacer 12 mp (sugiero colocar una marca en el 1er mp. para contar p. y vtas. con mayor facilidad)
Vta. 2: 12 mp
Vta. 3: 12 mp, hacer 1 pd. en el 1er p. de la vta. y rematar.
Esconder todas las hebras. El anillo debe quedar un poco ajustado al dedo. Con el tiempo el estambre se estira y no queremos que se salga el anillo.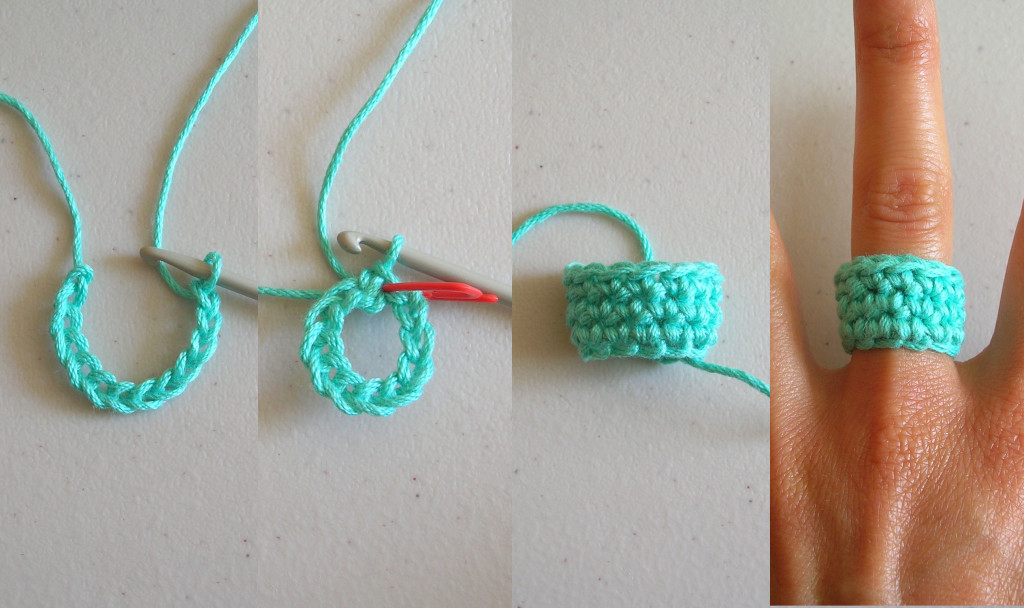 For the bow, ch 18. Repeat the same 3 rows as for the ring but now with 18 sts. When fastening off leave a 35 cm long strand and weave in the beginning string only. Put the bigger piece on top of the ring and pull the string through the ring, then wrap the bow tightly right in the middle. Repeat this several times to join both pieces and to make the shape. Approximately when the strand is 8 cm long, fasten off and weave in the end.
Para el moño, hacer 18 cad. Repetir las mismas 3 vtas. que para el anillo pero ahora con 18 p. Al rematar dejar una hebra de 35 cm. de largo y esconder solamente la hebra de inicio. Poner la pieza grande encima del anillo y pasar el hilo a través del anillo, después envolver el moño justo por la mitad, ajustando para dar forma. Repetir varias veces para que se unan las dos piezas y quede el aspecto deseado.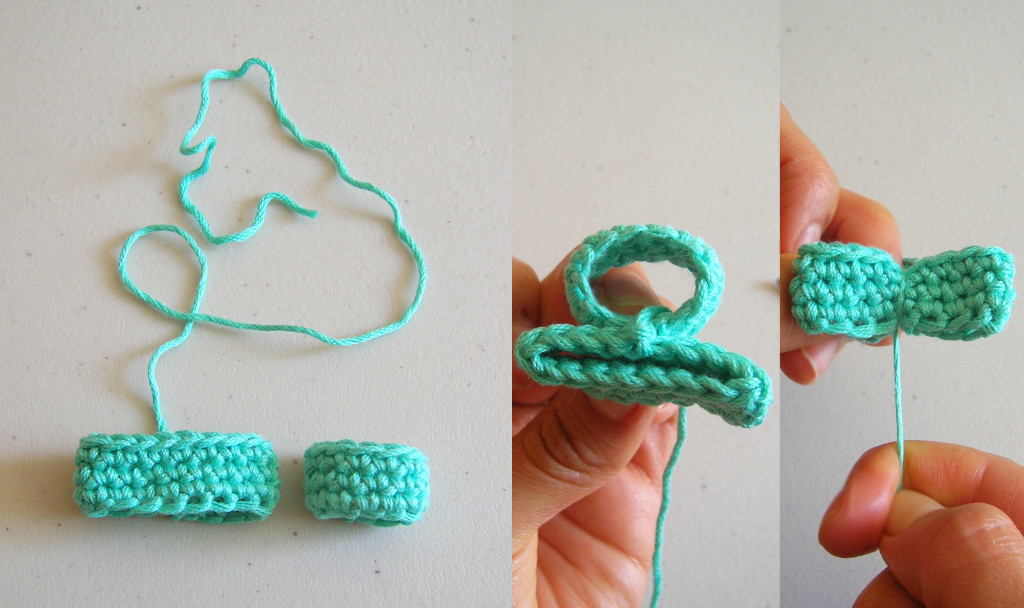 And the bow ring is ready. You'll see, it's so fast you'll want to crochet more than one. Increase sts and rows and turn it into a bracelet or a headband.
Y el anillo de moño está listo. Es tan rápido que querrás tejer más de uno. Aumenta p. y vtas. y conviértelo en un brazalete o diadema.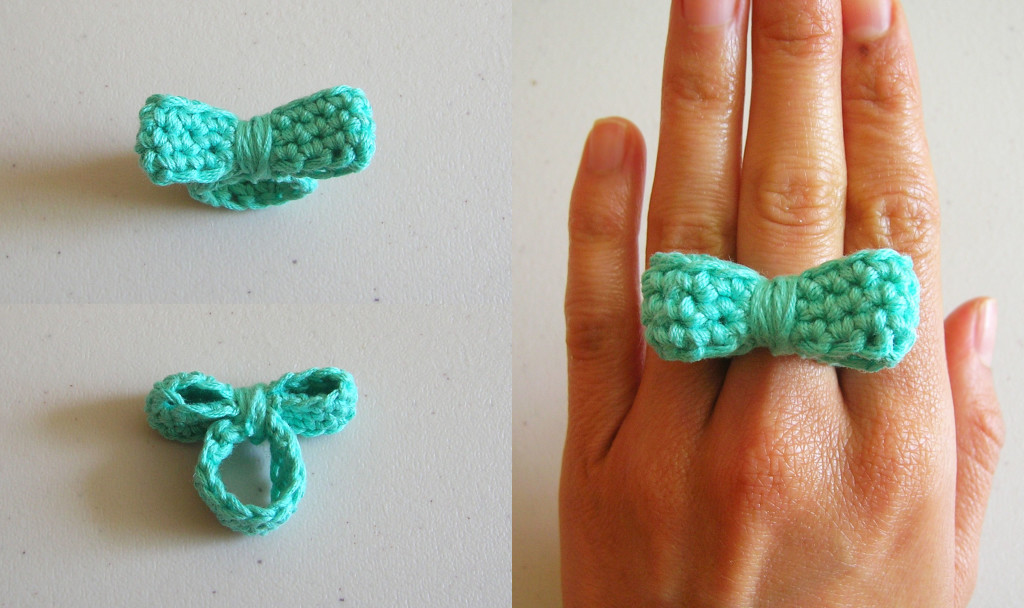 ABBREVIATIONS
R: row
st: stitch
ch: chain
sc: single crochet (UK double crochet)
ss: slip stitch
ABREVIATURAS
vta: vuelta
p: punto
cad: cadena
mp: medio punto (punto bajo)
pd: punto deslizado