This new design is special for me. As I commented in my last post it will also be featured in Around the world in 80 skeins blog. If you want to know more about what inspired me to make it please click the link. It includes basic shapes and it's very easy but I think it really makes a statement and adds fun to any look. Materials needed are 100% cotton yarn in three different colors (I used La Abuela no. 6 by Omega, one 70 gr. skein of each), a 2.5 mm crochet hook, one set of clasps, some stuffing and 22″/ 56 cm of 6 mm cotton cord or similar.
Este nuevo diseño es especial para mi. Como comenté en mi último post, lo hice para publicarse al mismo tiempo en el blog Around the world in 80 skeins (La vuelta al mundo en 80 madejas). Si quieres saber más sobre mi inspiración para hacerlo da clic en la liga. Está hecho a base de formas básicas y es muy sencillo de hacer pero creo que realmente destaca y añade un toque divertido a cualquier atuendo. Los materiales necesarios son hilaza 100% algodón en tres distintos colores (usé La Abuela no. 6 de Omega, una madeja de 70 gr. de cada uno), un gancho de 2.5 mm, broches de presión, un poco de relleno y un tramo de 56 cm. de cordón de algodón de 6 mm o similar.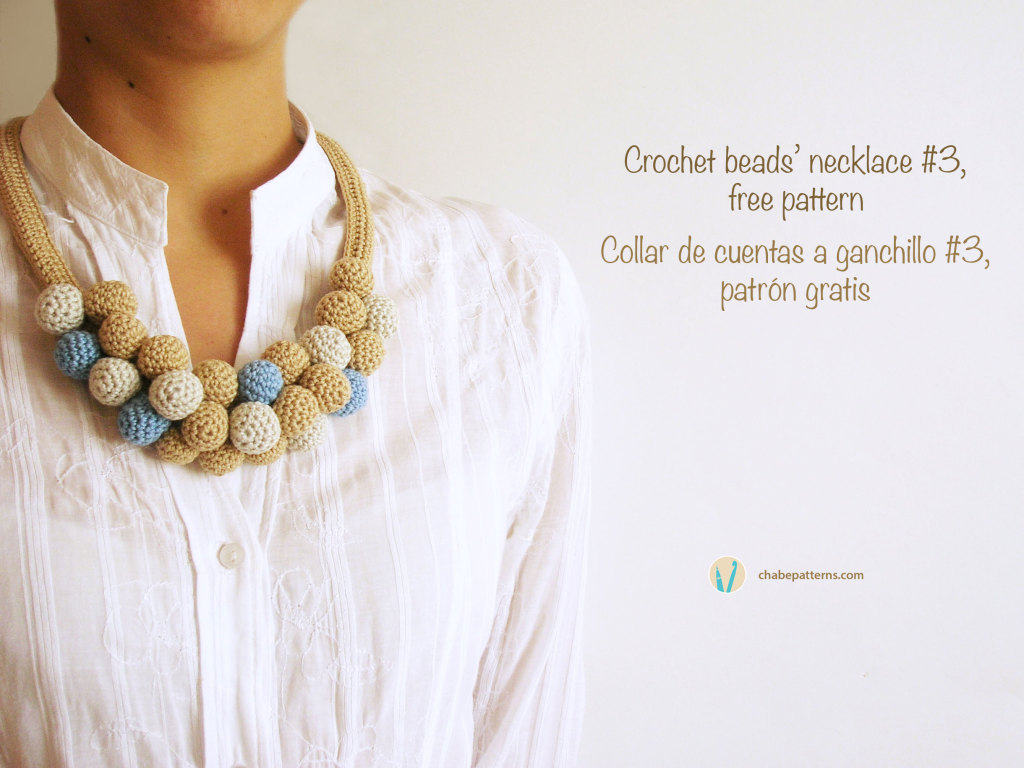 BEADS
Crocheted in the round in a spiral way. Ch 2.
R1: 6 sc in 2nd ch from hook= 6 sts (I suggest placing a marker in the first st of every row to count sts and rows easier)
R2: 2 sc in each sc around= 12 sts
R3: (sc 1, 2 sc in next st) rep ( ) 6 times= 18 sts
R4 and 5: Sc 18
R6: (sc 1, dec 1) rep ( ) 6 times= 12 sts. Stuff the bead.
R7: (sc 1, skip 1 st) rep ( ) 6 times= 6 sts. Ss in the first st of this row.
Fasten off leaving a long tail for sewing.
CUENTAS
Se tejen en redondo, en espiral. Hacer 2 cad.
Vta. 1: Hacer 6 mp. en la 2ª cad. desde el gancho= 6 p. (Sugiero colocar un marcador en el primer p. de ésta y las sig. vtas. para contar los p. y vtas. con mayor facilidad)
Vta. 2: Hacer 2 mp. en cada p. en redondo= 12 p.
Vta. 3: (1 mp, 2 mp. en el sig. p) rep ( ) 6 veces= 18 p.
Vta. 4 y 5: 18 mp.
Vta. 6: (1 mp, 1 dism) rep ( ) 6 veces= 12 p. Rellenar la cuenta.
Vta. 7: (1 mp, saltar 1 p) rep ( ) 6 veces= 6 p. Hacer 1 pd. en el primer p. de esta vta.
Rematar dejando hebra larga para unir.
I made 14 beads in beige, 7 beads in cream and 4 beads in blue.
Hice 14 cuentas en beige, 7 en crema y 4 en azul.


Next step is making the tubular base for the necklace, it's made exactly the same as for Flower necklace #3.
Once the cord is wrapped inside the tube, mark the center 8.7″/ 22 cm and also place a marker right in the middle. Sew the clasps, this will close the base's ends.
El siguiente paso es hacer la base tubular para el collar, se hace igual a la del Collar de flores #3.
Una vez que el tubo ha quedado cerrado con el cordón por dentro, marca los 22 cm centrales y también coloca un marcador justo en el centro. Cose los broches, esto cerrará los extremos de la base.
Sew the beads to the necklace as shown in the image, just in between the red markers. The center marker helps distributing the beads on both sides equally. Remove the markers and weave in all ends. The necklace is ready.
Coser las cuentas al collar de acuerdo a la imagen, justo entre las marcas rojas de los extremos. La marca central ayuda a distribuir las cuentas en ambos lados equitativamente. Quita las marcas y esconde todas las hebras. El collar está listo.
It also looks nice with a plain white T-shirt, hope you like it and DIY.
También luce bonito con una playera blanca sencilla. Espero también te guste y lo hagas.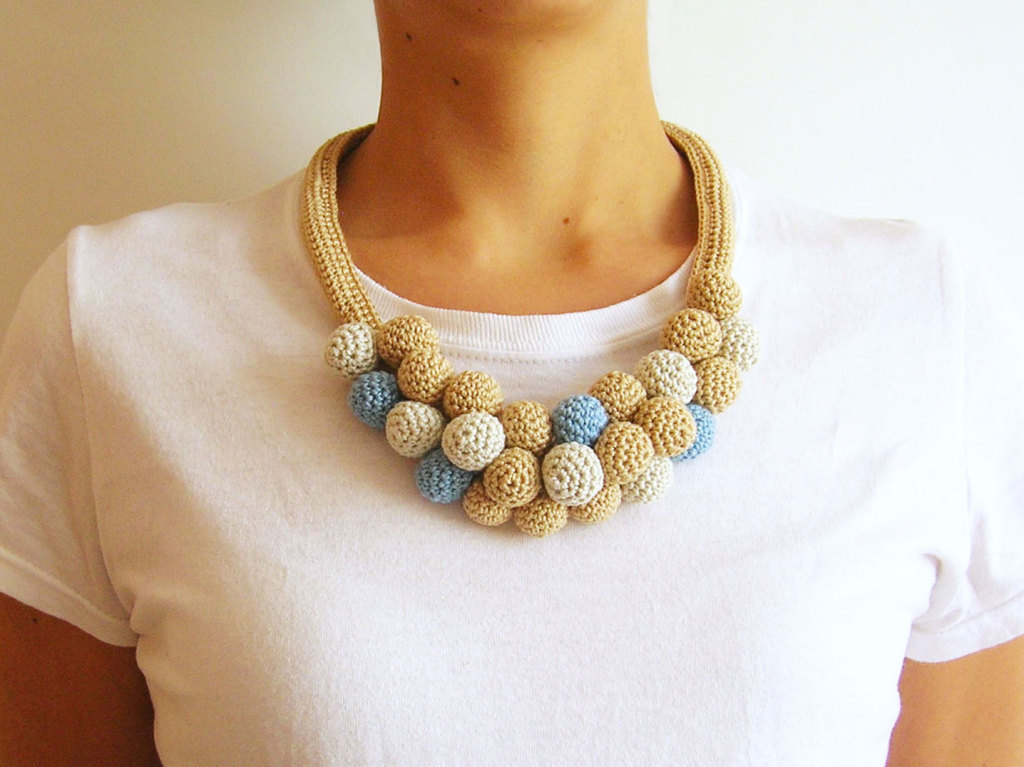 Tweet

ABBREVIATIONS
ch: chain
R: row
st: stitch
sc: single crochet (UK double crochet)
ss: slip stitch
rep: repeat
dec: decrease
ABREVIATURAS
cad: cadena
vta: vuelta
p: punto
mp: medio punto (punto bajo)
pd: punto deslizado (punto raso)
rep: repetir
sig: siguiente
dism: disminución