Some days ago, one of my blog followers, Kim, told me about extended single crochet stitch (UK extended double crochet). I haven't heard about it before but she told me wonders about it so I looked it up and found it really interesting and refreshing. We could compare this stitch to half double crochet (UK half triple crochet) because it's an intermediate stitch between single crochet (UK double crochet) and double crochet (UK triple crochet). Just as my follower friend pointed out it creates a great texture and drape. I personally love how rows blend a lot more making a softer looking fabric. So I decided to make a cowl using this beautiful stitch pattern, with cotton yarn (Karen by Omega, two 100 gr. skeins), crocheted with a 7 mm hook, and finished with two 3.3 cm wide buttons.
Hace algunos días, una seguidora de mi blog, Kim, me habló del medio punto extendido (punto bajo extendido). No había escuchado de él antes pero me habló maravillas así que busqué y encontré una puntada muy interesante y renovadora. Podría comparársele con el medio macizo (medio punto alto) porque está justo entre el medio punto (punto bajo) y el macizo (punto alto). Tal como me señaló mi querida seguidora crea una linda textura y caída. Personalmente, me encanta la manera en que se suaviza la transición de las vueltas creando un patrón más delicado. Así que decidí hacer un cuello con hilaza gruesa de algodón (Karen de Omega, dos madejas de 100 gr), tejido con gancho de 7 mm, y terminado con dos botones de 3.3 cm de diámetro.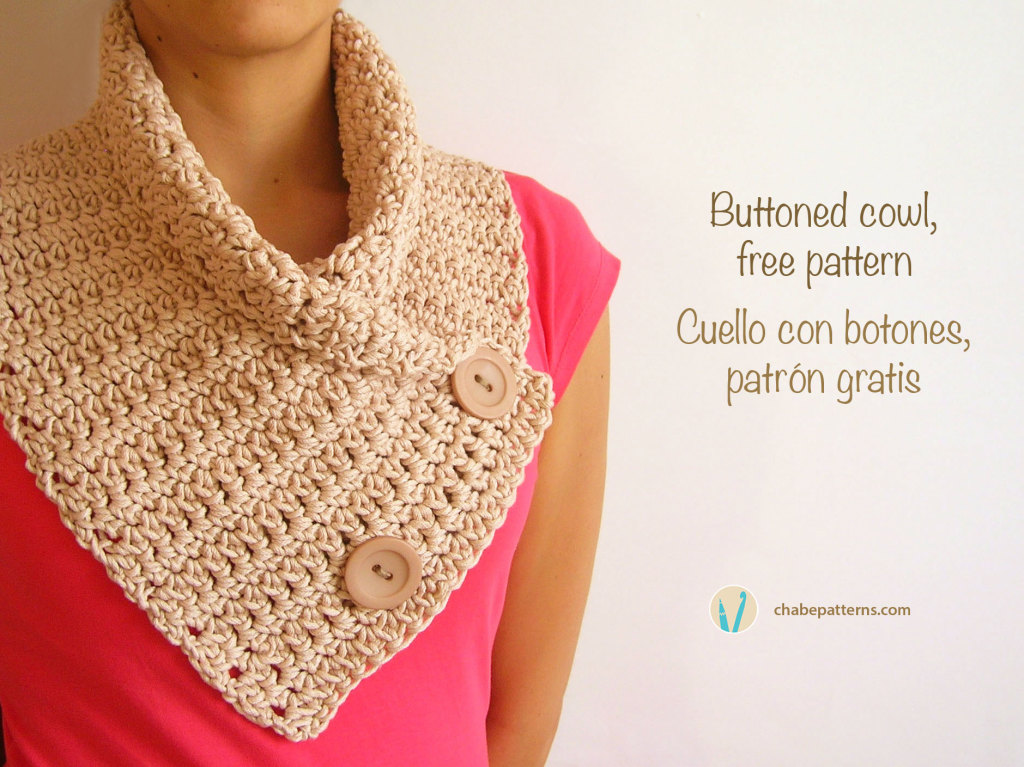 Extended single crochet: Insert hook in the st, yo, draw through the st, yo, draw through one loop on the hook, yo, draw through both loops on the hook.
Medio punto extendido: Insertar el gancho en el p, lazada, pasar a través del p, lazada, pasar a través de un bucle en el gancho, lazada, pasar a través de los dos bucles en el gancho.
COWL
FINISHED SIZE: 7.9″/ 20 cm x 32.3″/ 82 cm
GAUGE: 9 sts and 8 rows= 4″/10 cm
It's all crocheted back and forth. Ch 22.
R1: Starting in 4th ch from hook, esc 19= 20 sts.
R2-61: Ch 2, esc 19 (first two ch replace the first esc)= 20 sts. From R2 on, the last esc of every row will be made in the 2nd beginning ch of last row. Take care to make this st in order to complete the 20 sts.
R62: Ch 2, esc 1, ch 1, sk 1 st, esc 8, ch 1, sk 1 st, esc 8= 20 sts
R63 and 64: Ch 2, esc 19= 20 sts
Fasten off and weave in all ends.
CUELLO
MEDIDA FINAL: 20 cm x 82 cm.
MUESTRA ORIENTATIVA: 9 p. x 8 vtas= 10 x 10 cm.
Todo se teje de ida y vuelta.
Vta. 1: Empezando en la 4ª cad. desde el gancho, hacer 19 mpe= 20 p.
Vta. 2-61: 2 cad, 19 mpe. (las primeras 2 cad. sustituyen al primer mpe)= 20 p. A partir de la vta. 2, el último mpe. de cada vta. se hará en la 2ª cad. de inicio de la vta. anterior. Tejer siempre este p. para completar los 20 p.
Vta. 62: 2 cad, 1 mpe, 1 cad, saltar 1 p, 8 mpe, 1 cad, saltar 1 p, 8 mpe= 20 p.
Vta. 63 y 64: 2 cad, 19 mpe= 20 p.
Rematar y esconder las hebras.

Sew the buttons to the cowl as shown in the image.
Coser los botones en su posición como indica la imagen.

Wear the cowl following these steps.
Colocarse el cuello siguiendo estos pasos.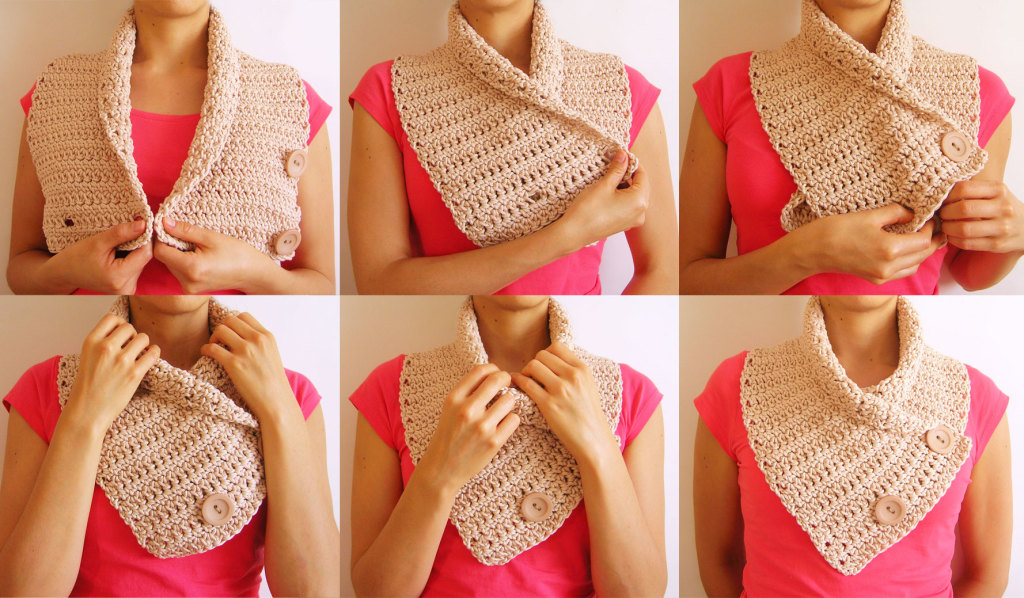 Tweet

I loved the outcome, another simple stitch pattern to follow that can be used for a wide range of garments. Thanks so much to Kim for this great suggestion, hope you like it too. It's great having this communication with followers and getting advice for new designs, there's always something new to learn in crochet.
Me encantó el resultado y aún más que esta es otra puntada fácil de seguir y que puede ser usada para una gran variedad de labores. Muchas gracias a Kim por la excelente sugerencia, espero también les agrade. Me gusta mucho tener este tipo de comunicación con los seguidores y recibir sugerencias para nuevos diseños, siempre hay algo más que aprender dentro del crochet.
ABBREVIATIONS
ch: chain
yo: yarn over
R: row
st: stitch
esc: extended single crochet
sk: skip
ABREVIATURAS
cad: cadena
vta: vuelta
p: punto
mp: medio punto extendido